Founded in 2002, Abelon Systems is a leading UK-based embedded systems company, specialising in software and hardware solutions across major business sectors.
More info


The Electronics Engineer's Tool Store
More info

AdaCore is the leading provider of commercial software solutions for Ada, a state-of-the-art programming language designed for large, long-lived applications where safety, security, and reliability are critical. AdaCore's flagship product is the GNAT Pro development environment, which comes with expert on-line support and is available on more platforms than any other Ada technology.
More info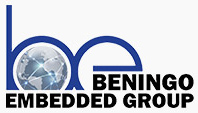 Beningo Embedded understands the design process and how to take a product from concept to production. We have a proven track record of successfully engineering products across a wide range of industries, and offer a wide range of embedded systems training as well.
More info

We provide lightweight, open source active object frameworks and graphical modeling tool for deeply embedded systems, such as single-chip microcontrollers.
More info
KINGSTAR from IntervalZero outperforms traditional hardware and competing software solutions with better performance at lower cost.
More info

Micrium has consistently held the leadership position in embedded software components. The company's flagship μC/OS family is recognized for unparalleled reliability, performance, dependability, impeccable source code, and extensive documentation. In addition, some Micrium components contain certifications that meet the rigorous safety-critical standards demanded by industries that include medical electronics, avionics, and industrial products.
More info

Connect Tech designs and manufactures high performance multi-port serial adapters, engineering tools, FPGA and Digital I/O products, solid state drives, CAN controller cards, wireless radio modems and Ethernet-to-serial devices for the Industrial and Embedded PC market. Connect Tech's products include PCI, PCI Express, CompactPCI, PC/104, PC/104-Plus, PCI/104-Express and ISA bus compatible boards, and external USB-to-serial and Ethernet-to-serial devices.
More info
All Vendors