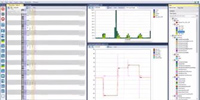 Use our link to try Percepio Tracealyzer for 10 days for free and receive a FREE Node Locked License (value of $1695) with the purchase of a floating license.
Reveal the runtime world, power up your software development.
Tracealyzer is the premier trace visualization tool for developers of RTOS- or Linux-based embedded software systems, now also supporting OpenVX embedded vision applications. Get amazing insight into the real-time behavior of your software during development, debugging, validation and optimization. Boost your development and deliver robust, responsive software, on time and within budget.