Announcing the 2021 Embedded Online Conference!
Once again this year, Jacob Beningo and I are putting together the Embedded Online Conference. Last year's edition was a very rewarding experience, with over 6,000 registrants, fantastic & insightful talks, and lots of positive feedback. For this year's edition, we are delighted to announce that none other than Jack Ganssle will be giving a Keynote presentation about the 50th anniversary of the Microprocessor.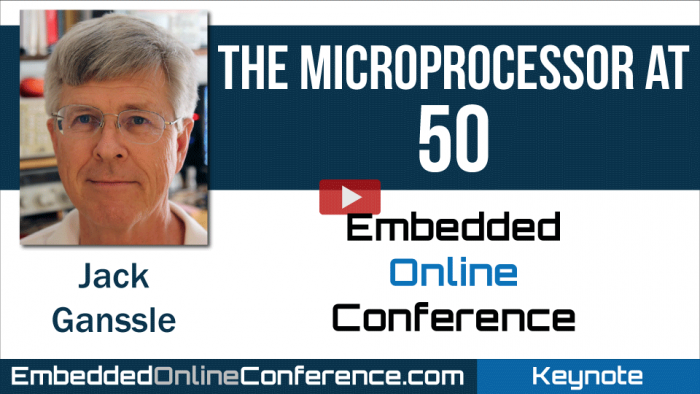 The 2021 Embedded Online Conference will also feature a full day dedicated to workshops where attendees will have the opportunity to learn through hands-on sessions. There are already two workshops confirmed; the first one will be about TDD and will be taught by James Grenning, author of the highly acclaimed Test Driven Development for Embedded C book. The second workshop will be about RTOS Design and Debugging and will be given by Jacob Beningo, author of Reusable Firmware Development.
On the 'technical talks' side of the conference, many of last year's most appreciated speakers have confirmed their return for the 2021 edition, including Clive Maxfield, Miro Samek, Niall Cooling, Sergio Prado, and Colin O'Flynn. Over the course of the next few weeks, we will be announcing more talks & speakers.

If you already know that you'll want to take advantage of this conference, you might want to go ahead and register this week to take advantage of our promotion that will give you access to all 'on-demand' talks from the 2020 Embedded Online Conference.
Finally, and that's where you get rewarded for reading this far, make sure to use promo code ER90 to save more than 50% on the already very low registration fee.
Cheers!
---
---
[ - ]
Comment by
●
January 31, 2021
Hi!

I just registered myself and got access to all 2020 Embedded Online Conference talks, nice!
But was not able to access any talks from 2020 DSP Online Conference / 2020 IoT Online Conference... how should I proceed?

Thanks!


To post reply to a comment, click on the 'reply' button attached to each comment. To post a new comment (not a reply to a comment) check out the 'Write a Comment' tab at the top of the comments.
Please login (on the right) if you already have an account on this platform.
Otherwise, please use this form to register (free) an join one of the largest online community for Electrical/Embedded/DSP/FPGA/ML engineers: